How can you look the best in your corporate headshot and why does your professional business headshot matter so much?
Before you even make it to the job interview, the people you are meeting with have an idea of what you look like and how you present yourself because they have seen you on LinkedIn.  Our first impression happens digitally now, so we need to make sure that we look our best in the first place we are seen – our profile photos.  Although your career highlights are very important, the first thing seen when someone opens your profile is your headshot and an immediate unconscious opinion has been made.  Studies show that LinkedIn profiles with photos are viewed up to 21 times more than those without and land 9 times more connections.
We can help you with that!  Having professional headshots for LinkedIn matters, we can help ensure that you are looking your best when you are trying to establish a new connection and growing your network.  People feel more comfortable when they see that they do recognize the person trying to connect, and if you having a meeting with someone you've met through LinkedIn, they will recognize you when you arrive.
Below are some tips to help you better prepare for your session to create the perfect corporate headshot for LinkedIn.  Please reach out to us so we can help you make it happen!
Hair and Makeup for Professional Headshots
For most people the toughest part of getting out the door is making sure their hair looks decent, this point also stands for your corporate portrait.  Have your hair done prior to your headshot appointment, and if you are in need of a haircut or change in style, have it done a few days prior to the shoot to allow it time to settle.  Personally, my hair is a mess half of the time(at least) so if you are like me, take a little extra time in the morning before your session.  This is something that you probably won't do again for a while, so it's better to get it right rather than doing it twice.  If you have long hair, don't tie it back, let it fall naturally – a little hair along the sides of your face as well to make a nice frame.  As far as makeup goes, we recommend for most people to keep it simple.  Visiting a professional make-up artist always brings things up to the next level, so if you have the option, visit a professional.
Unnecessary wrinkles in your coat or blouse can be a huge pain to avoid and eliminate, but it is worth the effort!  When people wonder what to wear for a headshot, they have to keep in mind that usually what matters is from the breast pocket up for a nice tight portrait as would be used on LinkedIn or many companies' profiles.  For these professional headshots, it is best to let your hands just fall to the sides.  It may not feel as natural as having a hand in the pocket or your arms folded, but your coat(and us in Photoshop) will thank you as it stays crisp and symmetrical.
Complicated jewelry and necklines are the next things to pass on. This is about making your introduction, simplicity is good here, pearls are great, a nice clean neckline is great, simple ties and a simple white or blue shirt will also keep a suit looking sharp and timeless.  A necklace that hangs down low will end up cropped and just show a couple of distracting lines in the image and that overly patterned shirts or ties can become dated.
Headshots, what to wear?
You can't go wrong with the classic red tie on a blue shirt.  This is the classic "power" look that has aged well.  The sharp contrast between the two gives a nice leading line to the face.
If you want to stand out, consider wearing gray.  The majority of the folks we photograph are wearing a dark-colored blazer.  A well-cut gray jacket will stand out in all the right ways.  With crisp lines, it will complement the standard gray or white background and a little bit of life to your headshot.
Bold, well-spaced stripes always work well, a nice blue and red/red and blue tie always works, the contrast pops and is a nice compliment.
A simple solid color tie is always a timeless look. A simple pattern or stripes is fine as well, but at all costs avoid something that looks seasonal as you will be using this headshot in December and July.
See what your spouse or colleagues say.  We photograph thousands of people a year, but you have to live with your spouse and see your colleagues daily.  Their opinions should be weighed, this headshot will be around for a while.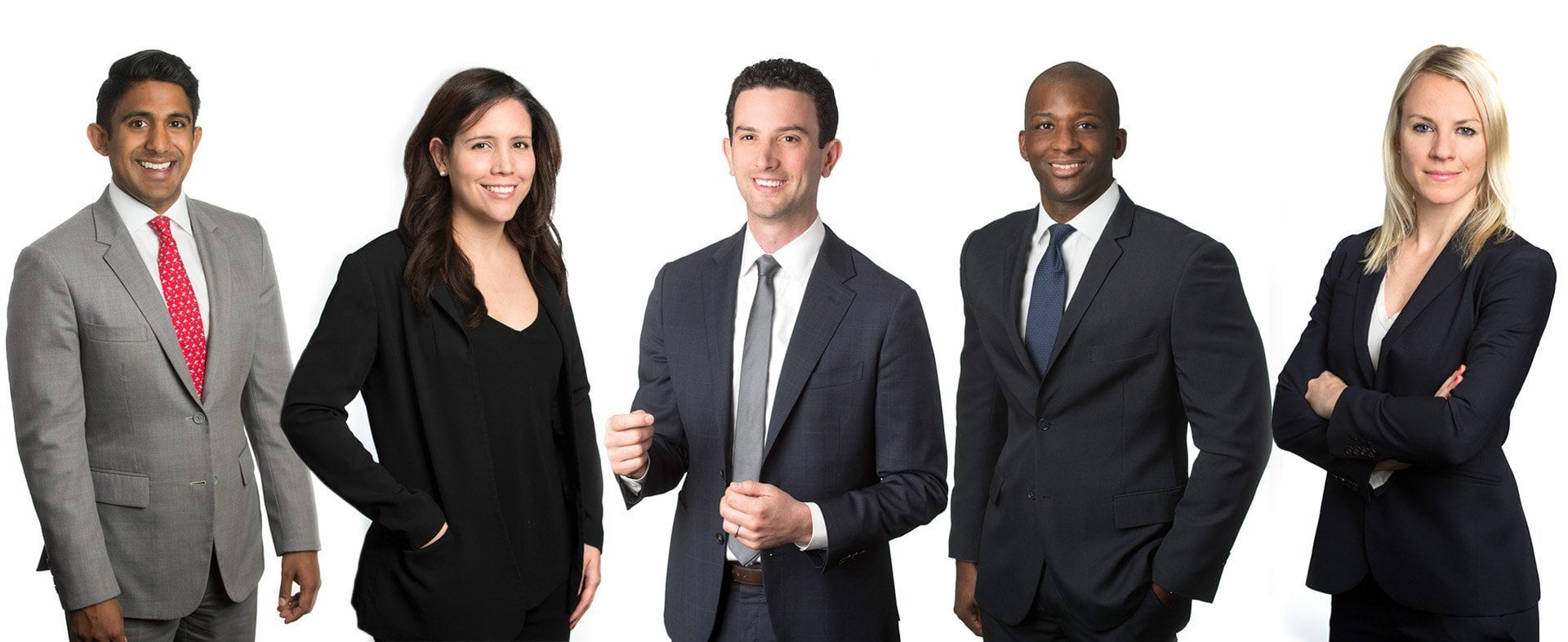 Poses for professional headshots
There is a general rule that goes in the direction you should be turned for your business headshot.  If possible your body should be facing toward the light a little bit which is commonly called 'short lighting.'  When you're turned away from the light it is called broad lighting, this could cause you to seem wider than you are, though in some cases it works well, so don't count it out.  Have the photographer photograph you from both angles to give you both options, but also note that some corporate directories and marketing managers dictate the guidelines of how everyone should look, so this may not be an option.
As a NYC Headshots photographer in, I have photographed thousands of professional business headshots, company bio portraits, and portraits for many many other uses, our studio even gets contacted out when a firm's C-Suite executives need to have their image library refreshed.  One of the most important parts of the process is to trust the photographer.  I often direct people on how to handle their head and face, every move should be in millimeters.  I follow my own rules too, the last time I had an x-ray done, the tech was amazed by how small the increments of my moves were.  That is because we are chasing the smallest details.  Getting in the door, being dressed properly, and having your hair done are all large parts of the process – but this can all be undone if you are turned in a weird direction or your head has an odd tilt to it (most of us naturally lean one way to the other.)  Let your photographer guide you, and follow the instructions.  Once you are moving in tiny increments you are 95% of the way there, so just hang in there even though it may not feel completely natural.
People always ask how to get rid of their 'double chin' to do this we simply need to stretch out the neck a little bit.  It might mean taking a step back, leaning forward and raising your chin a bit, or simply just pushing your face forward a bit.  We aren't worried about how natural it feels at the time, it's how it looks in the end that matters.  Your photographer should be able to direct you a bit to keep this looking natural and everything looking nice and smooth.
Practice your expressions in the mirror.  I can't count how many times I've finished up my first round of professional headshots with someone and then when we review they are surprised that none of their shots have a smile in them.  If you know what kind of look you are going for in your corporate headshot, let your photographer know – this way they can better assist you in getting there.  If you aren't sure, let the photographer capture a variety of expressions, in the end, you will be able to choose what you like best, sometimes it's the moment before or after a big smile that ends up being just the right amount.
Why should I have a professional corporate headshot done?
Though people may use various types of photos for their LinkedIn profile, remember that this is a business place and it's normal to have something with a little more serious tone that was done professionally.  Save the fun selfies of yourself for Facebook and Instagram and give us a call when you are ready to book your appointment!
What to Avoid for Headshots
Busy patterns can be distracting in the photo when the focus should be on you.
Overly bright colors.  Men, leave the salmon and yellow ties at home.  Women, leave the bright uber saturated blouses in the closet.  Those overly bright and very saturated colors can do two things in photos.  The can completely wash out and suddenly your yellow tie will become a very distracting highlight on the image or the overly saturated bright colors will keep all of their colors and also become distracting drawing attention to what you are wearing rather than you.
Men – Know what tie works for the shirt you plan on wearing.  Beyond color, make sure you wear the proper shirt for the type of tie you are wearing.  If you are wearing a wide-collared shirt, make sure to have a nice wide tie as well.  A skinny tie will never get wide enough to fill the gap and seeing the collar of the tie looks a bit sloppy.
Women – Keep the jewelry simple.  More often than not this portrait of you will be cropped pretty tight, in the crop, the statement necklace you are wearing will be cut off almost completely and just be left with a couple of distracting bright lines going down from your neck.
Skip the seasonal clothes. You might be having your headshot done in January, but when your headshot pops up for a business conference taking place in July you may seem a bit out of place.  Women, you are usually in the clear on this one, just mind the scarf you are wearing(if you wear scarves.)  Men –  Seasonal ties should be passed over for this occasion.  Save the snowman tie to give the first-year associate as a gift, after all, they were the only ones in the office on that snowy day in February.
Blue shirts with white collars.  Unless you are the Wolf of Wall Street, leave the white/blue color combo in the closet on headshot day.
If your favorite shirt happens to have grown to be a size too big for you, stop by Bloomingdales before your portrait and pick up a shirt with a nice fitted look.  It is especially noticeable around the collar when there is plenty of extra space for shadows(or even bright spots) to pop in.
Avoid short sleeves.  This again goes back to how the headshot will end up cropped, for a lot of uses, it will be cropped just a little lower than the shoulders.  If you are wearing short sleeves, the tops of your arms may creep in and stand out more than anyone cares for.  Long sleeves are a must and even better, step your game up and grab a blazer for the occasion.
If you're looking to update your LinkedIn profile picture, please fill out the form below, and let's get an appointment booked!
Corporate Event Photography
Alongside incredible portraits and corporate headshots, Camera 1 delivers premium corporate event photography, if you are hosting an event check out our work and give us a call!