Living in the the part of New York where the first confirmed case of COVID-19 virus was discovered earlier this year, things have been pretty weird. Our corporate photography studio is in Midtown Manhattan, things there are completely shut down. Even if we were able to lawfully work, there is no work to do as we deal with corporate clients and they are all have strict stay at home policies. At first we thought that this might only be a few weeks. We were wrong as it quickly became obvious that this would be a long term issue. The culture shock of being away from NYC and work for weeks on end has been weird but allowed for some mental adjustment. Fortunately we are positioned in a way where we can survive short term and have been fortunate enough to receive a grant from the PPP, not knowing when we will begin operating again has continued to be stressful.
We prepared to close our studio before New York was in total shut down as many of our clients were closing their offices and having everyone work from home, wi mimicked their best practices to keep ourselves and everyone else just a little bit safer. Our hope is that once things turn back around most of the postponed and cancelled work comes too.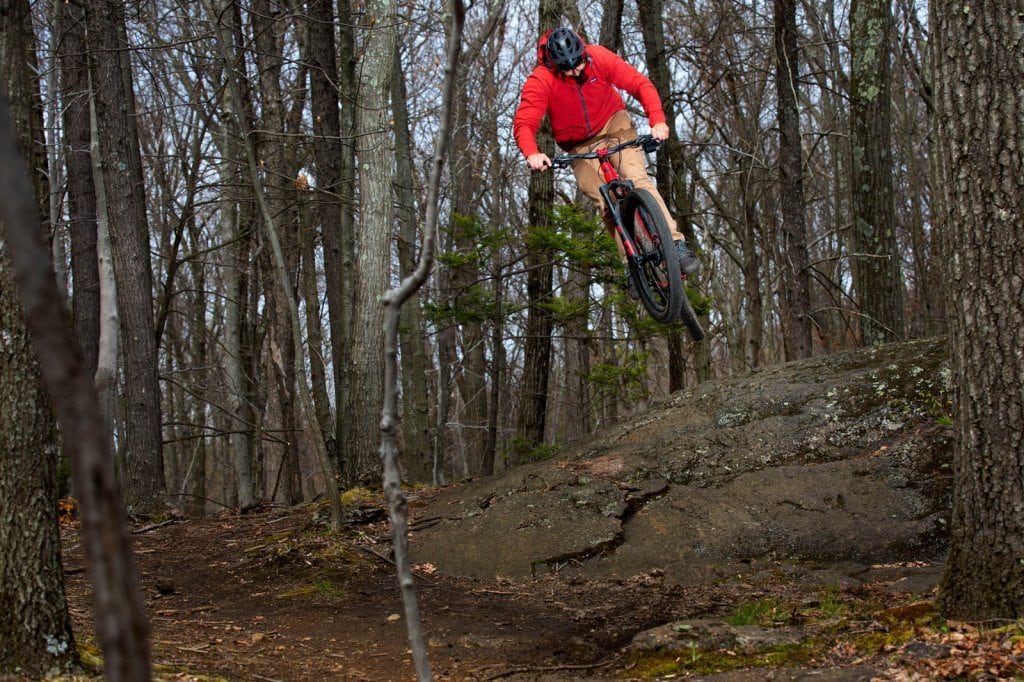 The response and change in culture has been bigger than anyone anticipated with no end in sight. The extra time with my wife and kids has been great, the chance to ride bikes pretty much every day has been a great outlet to allow for some level of normalcy – all of this extra time, so much room for activities. I no longer stress out about time management and maximizing my days. Like many people I am in a bizarro world, work is becoming an after thought, there are only so many rainy day projects to take on. I find myself wasting a lot of time doing nothing. It's refreshing, but has me afraid of losing focus, so it's time to get creative.
I have wanted to do this shoot for while. Usually I don't want to dedicate my time to personal projects, like everyone else I have a lot going on and would really rather be behind the handlebars than the camera on the weekend. Due to COVID-19 though, I have found myself with more free time than I have ever had as an adult. It was time to get it done.
I began building a shot list a few weeks ago, after every ride in the trails I would jot down a cool spot or perspective that I thought would photograph well. I knew that hiking in while carrying a backpack full of gear, a rifle bag with stands and a tripod, and pushing a bike would be a hassle so I laid the list out, narrowed it down to 6 shots and started planning the most efficient way to get it done. I knew I wanted to light it with speed lights and decided that my best bet was to shoot early in the morning, and on a day with full cloud cover. On my first round of shooting, I had the perfect day. There was a slight chance of rain later in the afternoon, I had a nice 4 hour window that looked great. 2 miles and 30 minutes in, I started setting up my first shot, with lights on stands, a camera on a tripod and me getting ready for a test shot, the sky opened up and a downpour started. After hustling to gather all my things I hiked out in the rain and waited for my next chance.
On my shoot day, it went off pretty smoothly. Fresh batteries all around, again just a slight chance of rain later in the day, and a hot cup of coffee to go. I did managed to get snowed on for a little bit, but otherwise things went pretty smoothly. Triggering everything with a PocketWizard zip tied to my handle bars, I started to get the hang of it and by the end of the day ended up with 5 unique shots that I am pleased with.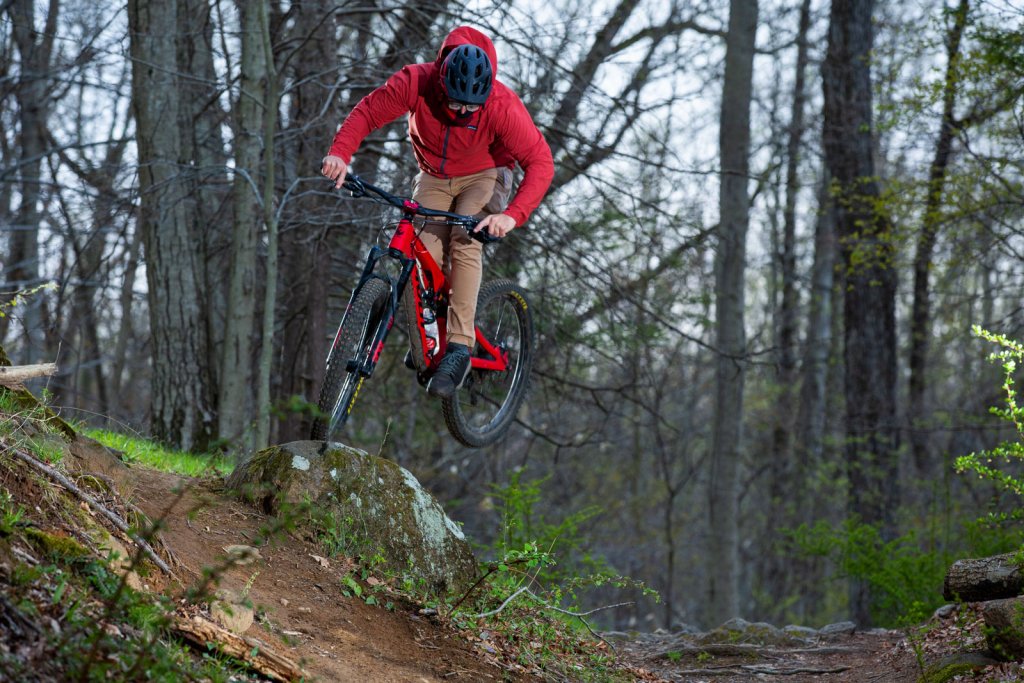 I shot with a Canon 5DIII, 50mm 1.4, 70-200 2.8 Sigma 24-70 2.8, 580EX II, Flashpoint R2 and 5 Pocket Wizards with various cables. When I started working on this project I only had 3 Pocket Wizards and one less cord. I quickly learned that a camera will not fire via PC socket powered by a remote. After learning that, I discovered that you need to have a remote specifically for triggering the camera, then a second remote in the hotshoe to trigger the lights. So 5 Pocket Wizards, one on the bike to trigger the camera, 1 on each flash, 1 one the camera to receive the trigger and a second on camera to trigger the flashes. I know that the newer Pocket Wizards have multi channel etc, but to buy the old ones used from Adorama only cost $35 each and were delivered to my house in 2 days. That is incredible – when I bought my first set of Pocket Wizards in 2002 I spent close to $450 on 1 remote and 2 receivers.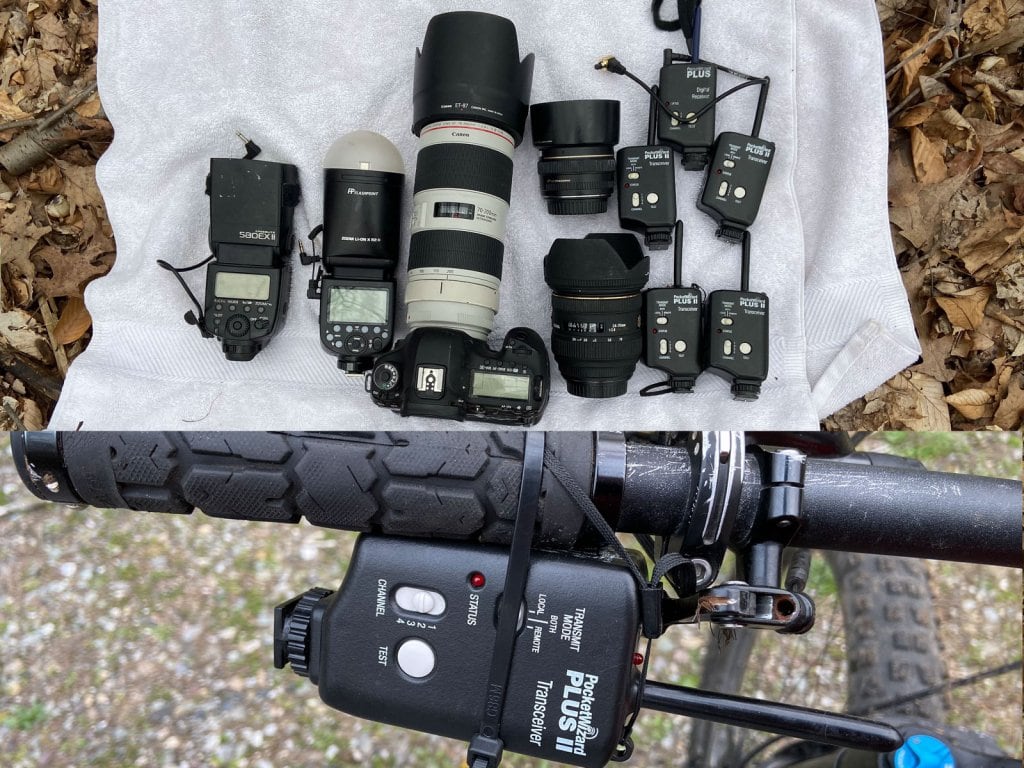 There are mixed feelings on Godox/Flashpoint vs Profoto and I have to admit, this little sub $300 flash has been an incredible value. I have a few complaints about it (no PC socket, no option for AA batteries, buttons are a little clunky) but overall it has been a great flash. I say this as someone who usually buys more premium gear(and bikes.) The FlashPoint definitely 'feels' cheaper than any of the Profoto gear that I have used, but the performance was top notch.
As professional photographers we are spoiled. Yes, we have a lot going on in the middle of a shoot for a client. Yes we have deadlines, bills and a whole bunch of other things that completely depend upon our performance behind the camera. We also have assistants who are making any adjustment we need. A make up artist or groomer who is adjusting someones clothing. A subject who (usually) isn't reviewing after every shot. We can just focus on making the best image possible.
After years of working in a professional environment and doing little personal work, this was refreshing. There are so many mistimed frames, times the flashes didn't fire, where I looked stupid or times that I didn't turn one of the handful of radios on between shots. I also didn't have to think about who was paying for the shoot. I didn't have to worry about running over time. I didn't stress about the weather on any particular day. This was something done purely for myself.